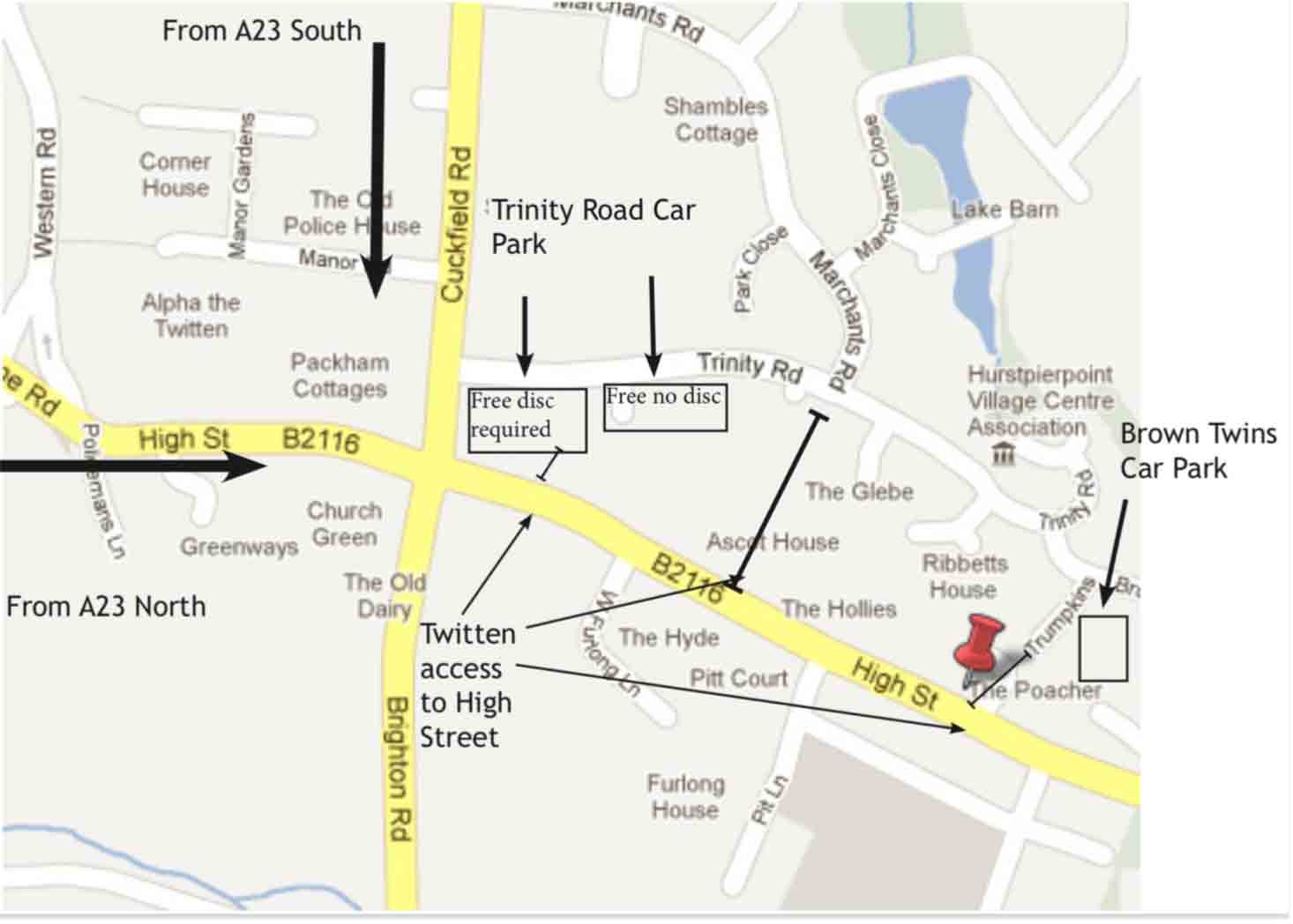 Car Parking Option 1 - Trinity Road Car Park (Free with Display Disc for 2 hours) BN6 9UY
There is a school on the corner of Cuckfield Road and Trinity Road and there is a car park opposite the school's main entrance in Trinity Road. (Post code BN6 9UY). On the right hand side of the car park as you drive in parking here is free for 2 hours but you MUST display a Parking Disc showing your arrival time. You can buy a parking disc from the Janton newsagent.
Car Parking Option 2 - Trinity Road Car Park (Free no disc required) BN6 9UYThe car park area to the left as you drive up the ramp in Trinity Road Car Park allows free parking with
no disc required for up to 23 hours.
From Trinity Road Car Park take the walk through out onto the Green, turn left up the High Street and 105 is on the same side of the road about 2 minutes walk on your left.
Car Parking Option 3
Carry on along Trinity Road and if there are any spaces along the road with no lines then you are free to park there for as long as you like. There is a twitten mid way along Trinity Road that cuts into the High Street. Turn right at the end of Twitten and our office is just up the road on your right.
Car Parking Option 4 - Brown Twins Car Park BN6 9XT - Free and unlimited time
Carrying along Trinity Road until it forms a bend at the top, carry on straight into Brown Twins Road and take the first right - you will see a small car park with free unlimited parking. The twitten to the right of the car park leads to the High Street. Turn right and walk up the road, our office at 105 is on the right a few minutes up the road.